by
In May I posted a blog on my exploits with South Leeds Media and the radio production course I had just completed. Within days of writing the pieceI got an email to say the studios would be closed for the week. Two similar emails followed by silence confirmed that funding had run out and the operation had folded. Talk about kiss of death. When I started out I had a vague notion that being involved as a producer would be the way to go. However, as a presenter, I was starting to improve and I had definitely got the bug.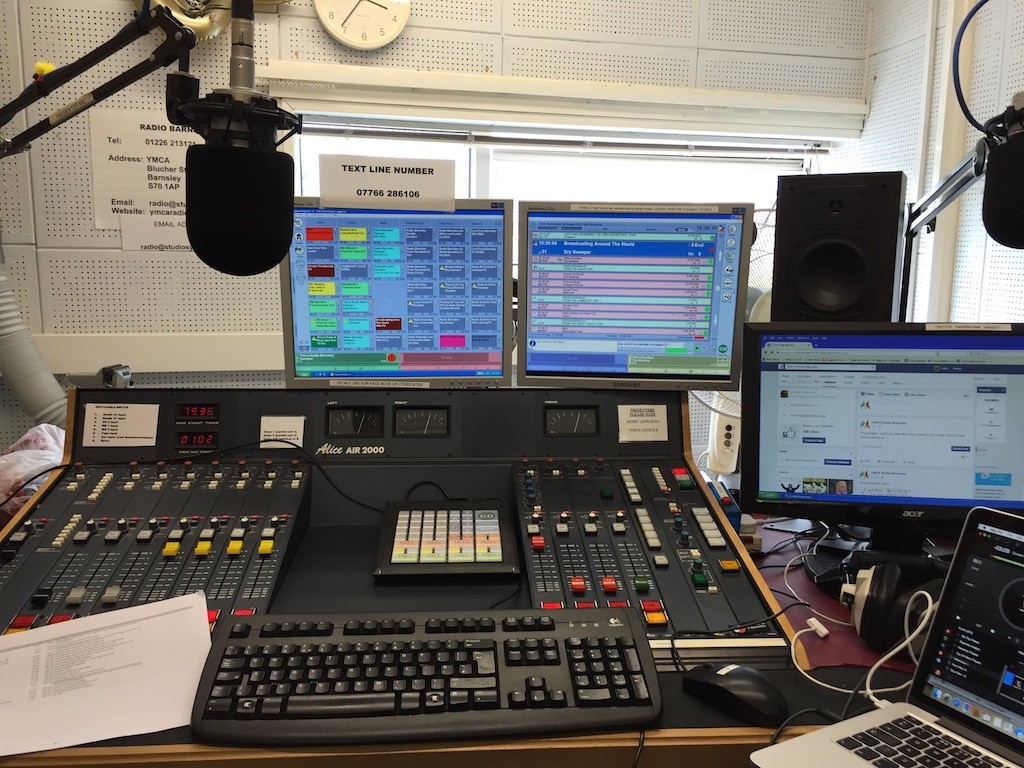 By coincidence, I saw a post on Twitter about Radio Barnsley, an online, community radio station based in (you guessed it) Barnsley! The station is run by an enthusiastic, friendly and knowledgeable group of volunteers. I emailed the studio and was invited in for a chat. All went well and, as I had just completed a course with South Leeds, we decided I don't need the full training that was on offer. After a couple of sessions to familiarise myself with equipment and software I was offered a show. At was at this point that I took my first gulp of air! Shows at South Leeds were pre-recorded and could be edited and redone. This would be live!! I was assured all would be OK and went off to compile my first playlist for the afternoon show.
This bit is my idea of heaven – trawling through my music collection and picking out which songs to play. The best bit is – I get to call it (unpaid) work! I quickly realised there was much more to planning a show than picking out your favourite songs.
An unexpected bonus in all this is that, as a member of a community station, I get affiliate membership with the Radio Academy. The Academy organises conferences, networking and social events. My first meeting was An Evening With Johnny Beerling at The Tetley in Leeds. It was all a bit daunting, not knowing anybody at first, but a stiff drink helped and I relaxed into it. The presentation was fascinating. Johnny Beerling was in at the start of Radio 1, working as a producer and then controller, racking up over 25 years of stories involving the pioneers and early stars of pop music radio in this country. One thing stuck in my head from that night. Johnny stressed that, for him, it was all about the music – not the presenter. That was music to my ears! I may not be the world's best presenter but I do have a passion for music and love sharing that music – hence the radio shows.
If all of this rings any bells with you, as a passionate advocate of music or somebody with something to say on just about any topic under the sun, maybe community radio is for you. Getting involved couldn't be simpler. Get in touch with Radio Barnsley. You will receive a friendly welcome. The training course assumes no prior knowledge and takes place in the evening. That may be enough for you or you may want to host on a show. You will be allowed to go at your own pace, guesting on another show if that is your preference. A small membership fee keeps the bank account happy and the station on the air.
Give it ago – I suspect you will enjoy it.
I am now doing two shows each week:
Monday 12-2pm Soul Man – a mix of classic and modern soul;
Wednesday 12-3pm The Afternoon Show – I play anything I fancy!
Both shows available on Mixcloud to listen at leisure.
by